Discover the Best Commercial Garage Doors in Fernley, NV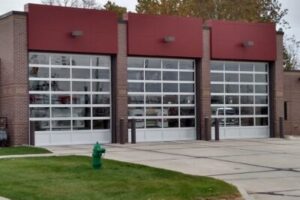 When it comes to finding top-quality commercial garage doors in Fernley, Nevada, business owners trust George & Sons Garage Doors. With decades of combined industry experience and a proven track record of success, we are the go-to source for all your commercial garage door replacement and repair needs.
A Wide Selection of Premium Doors
We believe that exceptional service starts with offering our customers the best products. When you partner with George & Sons Garage Doors, you can be confident in finding the ideal doors. Sourced from the biggest and most trusted companies in the industry, our commercial garage doors offer outstanding looks, reliable performance, and long-lasting durability. Whatever doors you choose for your business, you can expect nothing but the best.
A Highly Experienced Team
Our team of garage door experts is highly skilled in installing a variety of commercial garage doors. However, we can handle garage door opener replacements and general garage door repairs as well. In fact, our experienced team is available to provide emergency repair services whenever you may need them. So, if you have issues with your opener, springs, panel, or any other component of your commercial garage doors, just give us a call for timely assistance.
The Leading Commercial Garage Door Company in Fernley
For all your commercial garage door installation and repair needs, look no further than George & Sons Garage Doors. We would be delighted to provide a complimentary estimate for the commercial garage doors or repair services that you need for your business in Fernley, NV.